Cozumel private rentals of boats, yachts & catamarans(en español)
US 1-646-862-6030 MEX +52 998-848-2904
Texting SMS: Iphone - Android |

Telegram | Signal
|

Whatsapp | Call +529981492524
email:

[email protected]
Snorkeling & El Cielo / El Cielito Tour aboard of this comfortable and equipped boat.


Do you heard about El Cielo before? What does it mean? El Cielito means Heaven; and it is in Cozumel!

Come with us and enjoy together with your family a unique experience in Cozumel, sailing aboard a classic boat of 1966 totally restored.

Don Clemente counts for his comfort with bath and capacity for 18 passengers comfortably seated, additionally it has 4 pillowed fishing chairs in the superior part, it counts on cabin roofed for comfort and protection, as well as the bottom of closed, which allows you accompanied from the child to the older adult, also has interior and exterior lighting, stereos with bluetooth system to enjoy your music on board.

The service is attended by an experienced skipper, a sailor cheff and a qualified guide; they will make you live your best experience in Cozumel.

You could navigate the coast of Cozumel, enjoy the sights, know the best reefs of the island, and one of the most famous bays in the world called "El Cielo"

As a first stop we will arrive at the best reef in Cozumel, called Columbia Reef, on this reef you will be able to appreciate of an impressive marine life, stories like, Turtles, Stripes, Morenas, in its season, the famous Eagle Ray, different types of fish, both of size as colors!

Our second stop is at Cielo where you can enjoy what our team prepares, different gourmet foods, ranging from seasonal fruit to ceviches and seafood cocktails, guacamole at the moment, salads and even cake; to refresh us there will be available at any time, soda, juices and purified water ... and if you are looking for diversion, you will also have access to cold beer, clamato and why not? Some shots of Tequila.

In the Sky you can also enjoy the sea, you can go down from "Don Clemente" to enjoy the bay where the water reaches the waist, enjoy with your family and / or friends, along with music of your choice and relax in the sun Caribbean

Our tour lasts from 6 to 7 hours, although time is no problem for us.

The departure is from the private marina, and the time to agree is between 9 and 10 in the morning, although we can not adjust to your preference.

As a safety measure, we have: life jackets, snorkel equipment, marine radius, survival kit at sea and oxygen tanks.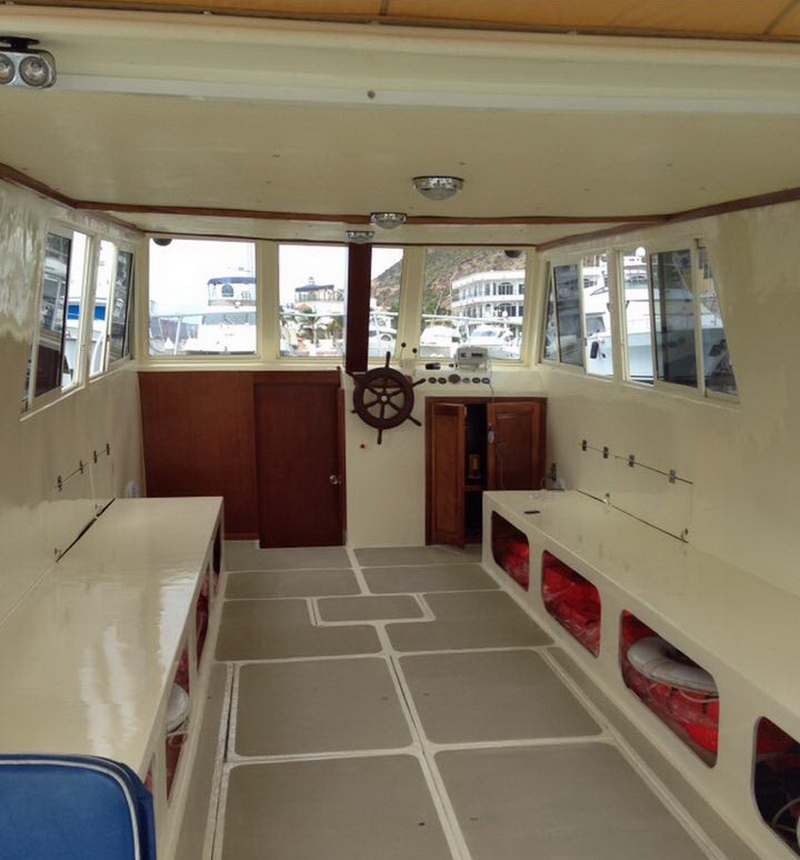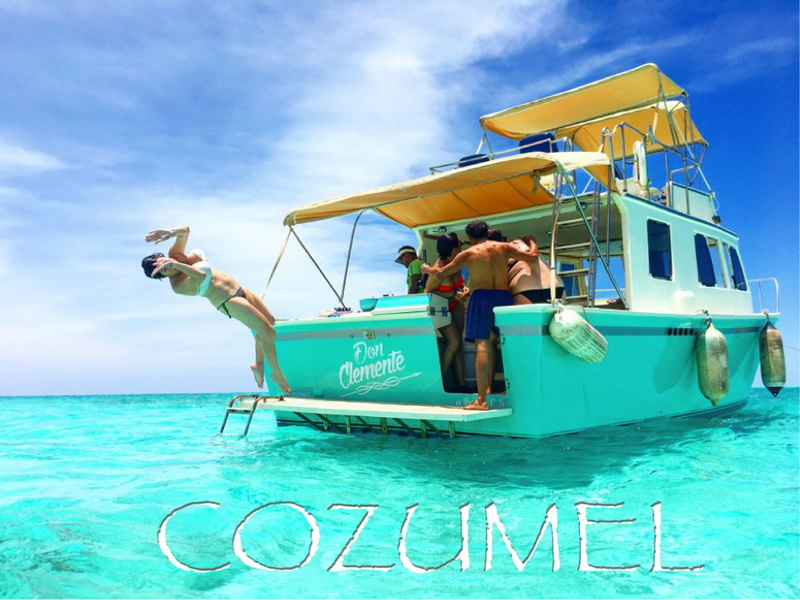 Take a smooth boat ride along the southwest coast of the island while enjoying the scenery and popular beaches that many tourists come year after year to visit. We will arrive at Cozumel's most beautiful snorkeling reefs which are Palancar, Columbia, where you can enjoy a spectacular reef scenery formed by many colors created by sponges, corals and seafans; hundreds of tropical friendly fish swimming through the reef and encounter with turtles, all in tropical waters with more than 100ft visibility. Our snorkeling trips include a professional guide that can show you this vast underwater world and will explain as much as possible through out your journey. Our snorkeling tours are safe and designed for all ages.

Have your own snorkeling equipment? Bring it along! We will take care of it! Need snorkeling equipment? Dont worry, it's included!

After both snorkeling sites, we will continue south until we reach a 4ft sandbar with turquoise blue waters, white sandy bottom and many starfish all around you. To swim and play here, is of course, Heaven. You can enjoy this most beautiful atmosphere and relax in the boat or in the ocean.

After eating and playing at El Cielo, its your choice! Snorkel at one last reef or stay longer in Heaven!

Our staff is more than ready to serve you and make this trip an unforgettable memory.

Things that you will need? Towels, sunscreen, hat, eyeglasses & your camera so along the cruise we can take as many pictures as you want.