Luxury Yacht Charters Cancun has a complete list of boats to rent per hour day or week.
Yachts, catamarans, sailboats, boats for private tours, group outings, parties, and celebrations.
Located at Marinas of Cancun, Isla Mujeres, Puerto Morelos, Maroma, Puerto Aventuras, and Cozumel
From rent to a small boats to mega yachts that will make your trip to the Mexican Caribbean a unique experience to remember.
If your passion is fishing you can do with all the comfort and allowing your family and guests to also can enjoy the ride.
For sea expertise, we have sailboats to navigate the reef of the Mexican coast
Visit Mexican Caribbean Islands: Isla Blanca, Isla Holbox, Isla Contoy, Isla Mujeres, Cozumel Island.
Cancun Boats rental,Catamarans and Luxury Yachts Charter for private tours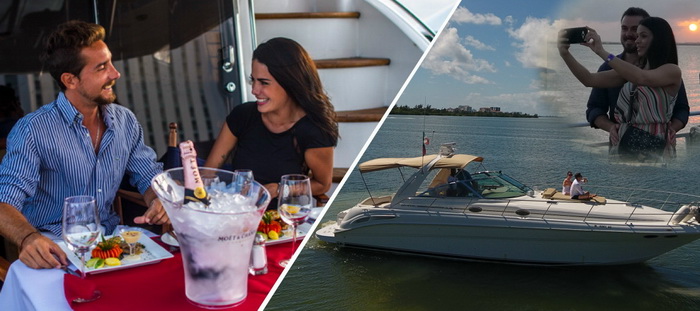 Check

and Compare boat rentals list by area and performance. Half or Full day boat rental.

Puerto Aventura Yachts and Boats

Cozumel fishing boats and yachts

Puerto Morelos Riviera Maya Boats

Maroma Playa del Carmen boats

Isla Mujeres catamarans



Pro

Fishing boats


Water toys and activities

Large group vessels - Weddings
meetings, celebrations or parties
About Luxury Yacht Charter Cancun: We offer Catamarans, Sailboats, fishing boats, charters craft, and Luxury Yachts to accommodate from 2 to 400 people on bigger boats. We serve customers hosted at any Cancun hotels or houses on area, we supply transportation and limousines from your hotel to our marina. You can get a perfect vacation on most of Riviera Maya hotels along the coast of the Mexican Caribbean and combine with a few days aboard of our luxury catamarans.
Luxury Yacht Charters Cancun is a Magic-Sea boat rental company in Cancun that make your yacht charter rental practice in Cancun personal and unforgettable.
We offer an extended list of luxury yachts boat charter varies in size, style, and function.
It consists of sailing boats, fishing boats, luxury yachts, luxury catamarans, and Party Boats for groups. Available ranging from 20' to over 110', covering all the details of your yachting experience.

Renting a yacht with us means a plus service and you can check it at Tripadvisor reviews, all are 5 Star, catered food and your choice of beverages, customized itineraries and a healthy combination of travel options.

Our certified and licensed Captains look forward to delivering you to your destination while a crew caters to your every need during your Private luxury yacht charter.
We care about your satisfaction in exceeding every clients' expectations and look forward to helping you plan your dream getaway with us.
Guests are amazed by the abundant sea life they encounter on this extraordinary vacation.
From dolphins, sea turtles and beautiful coral to the amazing whale sharks, this experience is one which will create memories of a lifetime.
Our trip sailing the waters just off the Yucatan Peninsula's northeast coast provides a taste of the excitement and luxury combined with exploration of beautiful white sand beaches, rich local Mayan history and pristine underwater wilderness unique to the region's spectacular reefs and atolls.
Overnight boat rentals at Cancun Playa del Carmen Cozumel
For the cost-conscious traveler looking for a convenient escape to paradise, this is the perfect opportunity.
Major international airlines as well as charter airlines have direct or connecting flights to Cancun every day.
Now more than ever Cancun International Airport is easily accessible from almost every major city in the world. From the United States, leave your home in the morning and in only a few hours you'll be enjoying the beautiful waters of the Mexican Caribbean from the bow of ours yachts or catamaran. Spend a few days aboard or a week from Holbox to Belize.