Do a All Inclusive 4 days 3 nights sailing tour around
Mexican Caribbean Islands:
Isla Blanca, Isla Holbox, Isla Contoy, Isla Mujeres
Or rent by a private day tour


US 1-646-862-6030 MEX +52 998-848-2904
Texting SMS • Telegram • Viber • Line • Whatsapp >

+529981492524 email: info@cancuncd.com
FAQ about Catamaran or Yacht vacations


This is a description of suggested Itinerary but places visited and sequence may vary due to weather conditions, wind direction, waves, and tides.
Upon arrival into Cancun's international airport, our limo transfer take you on a 25-minute ride to our departure base located at Marina Hacienda del Mar, in the north of Cancun. At five o'clock we welcome you aboard with a cocktail as we get to know each other and discuss the plan for the coming days.
Day One:
After a light breakfast, we begin our first sail for Boca Iglesias. Around the ocean side of Contoy Island, on the way, we'll enjoy some fishing in hopes of securing a 'catch of the day'. Upon arriving at Boca Iglesias we'll view the ruins of a 16th century Spanish Colonial Church, wherein 1523 Francisco Montejo Jr. led an expedition ashore and was attacked by the local Maya. To reach the ruins will be a day of adventure, but prior to our arrival, we stop to snorkel in search of octopus and lobster. After lunch on board, we start our journey to the Church.
To reach the abandoned site of Boca Iglesias we navigate through the mangroves and walk through a dense jungle. During the hike, keep your eyes to the trees which are home to the local spider monkeys. Following our excursion, we return to the yacht for a relaxing dinner and cocktails.
Day Two:
In the morning, we set sail to the island of Cayo Sucio (Dirty Cay). We break up this two-hour sail with a stop at Coco Reef for some amazing snorkeling. Upon arrival at Cayo Sucio, our crew will prepare lunch while you can explore in the sea kayak or swim and snorkel nearby. Today, After lunch we invite you to relax on the beach or snorkel just off the coast where you may encounter a wide variety of sea life including turtles and manta rays. These waters are also a popular location for whale shark viewing! One of the largest living fish species, the whale shark is a gentle giant and poses no danger to snorkelers and divers. They do offer a spectacular photo opportunity and can be a definite highlight of the day's activities
Day Three:
We awake to the smell of fresh coffee and enjoy a delicious breakfast prior to our sail to Isla Mujeres, 'The Island of Women'. The story of Isla Mujeres provides a colorful history that explains how the island got its name. In 1517, when the Spanish expedition led by Francisco Hernandez Cordova, landed here they discovered a stone temple filled with female shaped Mayan idols. These idols represented the goddess Ixchel, the goddess of fertility. Today, Isla Mujeres has earned the reputation of being the region's more laid back and relaxing island offering a quaint little downtown with local shops, beautiful beaches, and restaurants.
During this 2 hour sail to Isla Mujeres, we stop for a quick dip and some snorkeling before we arrive at Villa Vera Marina. Here we hop on a golf cart for a tour of the island, stopping to take in the sights of downtown followed by lunch back on the catamaran. After an afternoon of sailing around the island and exploring the beaches, we head back to the marina and enjoy cocktails prior to dinner ashore and exploring the entertainment options of downtown Isla Mujeres.
Day Four:
After breakfast we set sail south navigating the bay waters and the coral reef stopping on the way to enjoy the spectacular snorkeling in the waters of "El Angel Reef" and the sunken shipwreck of "Triunfador", then we sail back to Cancun and our home base at Hacienda del Mar Marina where we say our goodbyes and exchange emails to share our wonderful photos and memories of an unforgettable vacation.
All Inclusive Sail, Open bar, Captain, Sailor, enjoy your own private boat
Included:
-All meals complete with appetizers, desserts and wine except one dinner ashore
-3 nights aboard one of our Lagoon 440
- An air-conditioned guest cabin
- Experienced Captain and Chef/Hostess
- Open bar throughout your charter
- Snorkeling gear
- Fishing gear
- Sea Kayak
- Dinghy with outboard
- All cruising taxes National Park fees and government taxes while onboard
- Fuel for yacht
- Water for yacht
- Mooring and docking fees
We make it very easy for you to relax and enjoy your time in paradise.
Pictures of Catamaran to rent departuring from Cancun to Holbox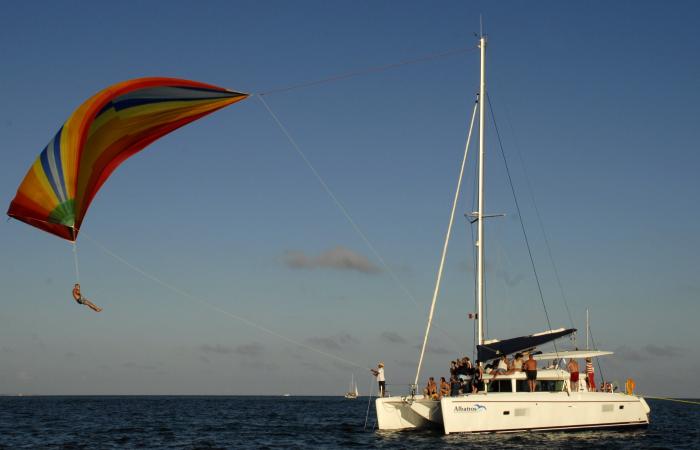 Spinaker over the ocean with this sail boat
CATAMARAN SPECIFICATIONS:


Comfort of Air-Conditioning Cabin:
All of our vessels come complete with air-conditioning in the main salon as well as individual controls for each cabin. When at anchor, a generator which is located beneath the seat in the rear cockpit, supplies the necessary energy to run the AC. For those who prefer the natural breeze, each cabin offers a cabin deck hatch and porthole as well as a top hatch in the bath which allows air to flow throughout this area.
Lagoon 440 Aft Cabin with Bathroom (Pie de Foto)
Lagoon 440 Forward Cabin with Bathroom (Pie de Foto)
A Comfortable Occupancy:
Each of our Lagoon 440s have a charter layout featuring four cabins and four heads. On our fleet, guests can reserve only 3 cabins for up to 6 guests. We have found that six guests is an ideal make up for our crew to efficiently manage and offer the personal attention necessary for everyone.
Abundant headroom throughout:
The vertical, wrap-around windows, which have become the signature for Lagoon, not only provide excellent visibility from both inside and in the rear cockpit, it also provides superior headroom throughout the main salon. This headroom continues through each cabin and bath.
Private Bath for each guest cabin:
Each cabin has the privacy of an en suite bath. The bathroom features a toilet, vanity, sink, medicine cabinet and shower/faucet.
Superior Deck Space:
The Lagoon 440 has the unique flybridge design that offers our guests the opportunity to sit above the cockpit with the captain while under sail and also provides for a location for guests to relax while at anchor. The 440 also features two full-size trampolines as well as a six-person bench seat located forward of the salon and peak chairs offer guests an exhilarating seat while under sail.
Exterior Dining in a spacious cockpit:
The flybridge design opens up the rear cockpit to additional seating comfort for our guests. This is where we do our dining and also offers a great location to get out of the elements while still enjoying the sites. Retractable canvas sides are available to offer additional shade and protection from weather


Catamaran trip to Isla Mujeres restaurant or beach and return to Cancun hotel
Two Catamarans one of 2 Cabins and one with 3 cabins
Rent for a 3 to week sail tour around Caribbean Islands
Map Area to Sail from Cancun to north at Yucatan Peninsula, Stops at Isla Mujeres, Isla Blanca, Boca Iglesias, Holbox

MAGIC SEA - LUXURY YACHT CHARTER CANCUN contact form
Carretera Puerto Juarez Km 1.5 Blue Bay Hacienda del Marina Suite 86 CP77510 Cancun QR Mexico
Phone Number Mexico (Texting SMS Whatsapp Telegram)+52-1-998-149-2524 / Land Line +52-998-848-2904
US Number +1-646-862-6030 email to info@cancuncd.com
Facebook:#LuxuryyachtsCancun