Hacienda del Mar Marine Puerto Juarez Cancun Mexico
Slips, services, Inmibration, Custom your entrance to Mexico when you arrive in Yacht

US 1-646-862-6030 MEX +52 998-848-2904
Texting SMS • Telegram • Viber • Line • Whatsapp >

+5219981492524 email: info@cancuncd.com

Slips available for rent at marina Puerto Juarez Cancun Hacienda del Mar Cancun
Fishing boats, Luxurious yachts and Catamarns for rentals at this the ocean side marina.
Marina Hacienda del Mar puts at your disposal a world of services that will make the difference in your visit to our marina. With access to Sea Adventure Resort & Waterpark, you will enjoy all the facilities and amenities that our family resort in Cancun offers too.




• Showers/bathrooms
• Food and beverages ($)
• Office
• Laundry ($)
• Conference room ($)
• Snack Bar Pier ($)
• Speciality Restaurant (Ostras & Oysters) ($)
• Pay Phone ($)
• Ware Houses ($)

Marina Hacienda del Mar offers modern facilities and excellent services to create a successful experience with us.

• Depth at Marina 8´
• 560´ main dock
• Vessels up to 125´
• Capacity of 80 vessels
• Rip rap type breakwater, 615 feet long
• Ramp
• Electrics up to 220V/100V
• Diesel fuel available at all slips
• Potable water, (30 psi)
• 24 hour security
• Filtered diesel fuel
• Cable TV hook ups
• Wireless Internet
• Telephone and fax


Have you ever dreamed of having an exclusive party aboard one of our luxurious yachts?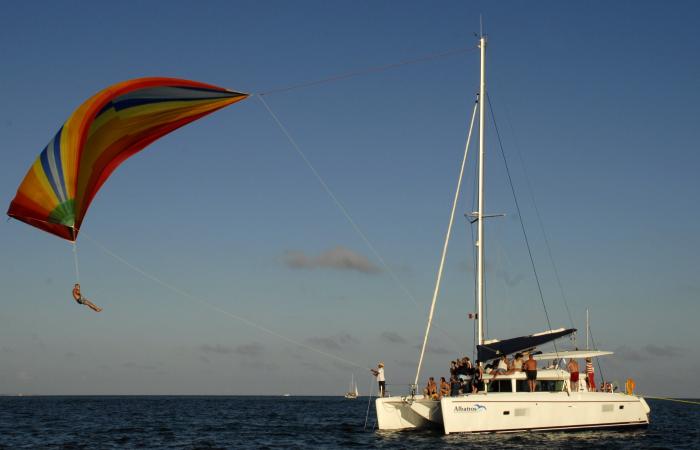 Now Marina Hacienda del Mar is not only offering you yachts and catamarans for rent, but also the opportunity to hold your events aboard them.

Don't look any further, you have found the right location for that fantastic celebration. Whether you want to commemorate your birthday, an anniversary or a gathering with your friends, our marina is giving you the option of reserving our yachts, deck, and gourmet restaurant Oysters & Ostras so that you can turn this special event into an unbelievable occasion. If you wish so, we will also take care of every detail of the celebration and you will just have to relax and enjoy your party.



INMIGRATION and CUSTOM

Our Full Service Marina is an official "Port of Entry", thus we can help you process the immigration and customs paperwork. Whether you come for the Great Sail fishing, diving, our culture or just sailing thru our beautiful beaches at Marina Hacienda del Mar will make your stay a breeze.

PAPERWORK

Please bring the following DOCUMENTS ABOARD, so that we can assist you with your arrival & dispatch:

• Dispatch from US Customs (Clearance Statement - Form 1300)
• Boat Registry or Documentation Certificate
• Vessel Insurance
• Captain License
• Passports

IMPORTANT NOTES:

• Make sure documents are not expired and are legible
• Mexican Law does not allow anyone to carry weapons on board, you don't need them while in Mexico, so please leave them at home